Heating for Sports Venues
The ideal sports venue heating solution for all sports & leisure facilities: comfortable heat, easy to install, eliminates moisture
Our infrared heaters provide the ideal heating for leisure centres, corporate boxes and other sports and leisure facilities. Herschel has a wide range of options to choose from and expert advice to assist in making sure your requirements are met and the right heating solution installed.
Our range of infrared heaters is a perfect low cost, low maintenance solution.
Heating for Sports venues
Inspire Comfort – White Frameless Infrared Panel Heater

View Range
Infrared panels
For heating changing rooms our Select XLS range of panels can be ceiling mounted, keeping them out of reach for safety and damage reasons. The infrared heat radiates down from the panels keeping people warm and heating the room itself. The infrared is good for reducing moisture and damp levels and the feeling of heat produced from the panels is great for warming up after a cold session on the pitch.
Find out more
Zero Light heaters
For larger spaces where you want to heat the whole area effectively but don't want the glow of more powerful radiant heaters, then our Designer Zero Light range is perfect.
Find out more
Warm Glow Space Heaters
Our radiant space heaters are excellent for heating large hard-to-heat areas to provide background warmth for sports halls and can be zoned to heat spectator areas, focusing the heat where it is needed without heating the entire volume of air. They can be used to heat corporate boxes / rooms and still provide comfortable warmth for spectators despite airflow.
Herschel Infrared is an ideal sports hall heating solution and we have successfully implemented infrared heating for sports halls and stadiums such as Liberty Stadium in Swansea, Leeds Rhinos Rugby ground as well as training facilities such as Gracie Barra martial arts school.
Find out more
Find Inspiration
Heating Sports Facilities at Leeds Rhinos Rugby
Find Inspiration
Heating Sports Facilities at Leeds Rhinos Rugby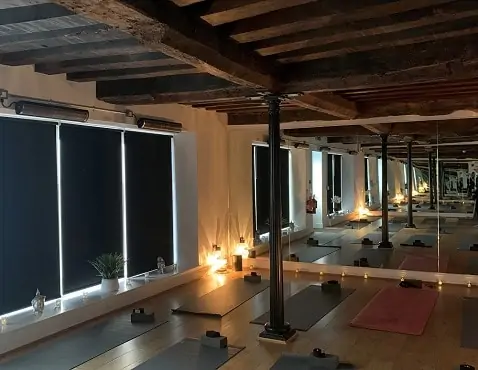 Effective heating for Hot Yoga
Find Inspiration
Effective heating for Hot Yoga
Customer Testimonials
"Why did we pick Herschel"?
"We looked at different options including biomass, electrical and infrared heating and we then conducted a trial. After a trial, it was concluded that Herschel infrared panels looked to be the best option. We then put it to the Board of Directors for this to be authorised. Why did we pick Herschel? We seemed to be getting a lot of feedback, they came back with the best ideas and the best product. In the trial period we tried a different product and it didn't go down well. The Herschel panels have gone down very well with the owners".
"A warmth students really love".
Harbour Yoga installed Herschel InfraRed panels to provide heating for Warm yoga classes at the studio. The panels are discreet and unobtrusive. They function extremely well, creating a warmth that students really love. The service from Herschel has been excellent, any issues have been dealt with extremely quickly and professionally. To summarise, we have found the panels to be an excellent product for our needs, from a great company to work with.
"Amazing pieces of kit" Wayne Mardle
"I needed a heating system that was easy to maintain and cheap to run for the 15' x 10' space. I did my homework and read about Herschel which produces amazing pieces of kit. The team delivered the panel; I cannot fault them in any way. It was so easy to put up and just switch on and go. It's plug and go; just plugged into a power socket. The installation of it was basically two screws to put the mounts up and then it kind of sat on the mounts and you can have it at whatever angle you want".
Wayne Mardle: Darts Player
"A huge step forward"
"After one full season of use, the changing rooms and, particularly, the heating can be regarded as a huge step forward"
John Atkins, Chairman, Wallingford Sports Trust