The COVID19 pandemic has meant that the safest way to socialize is outdoors. In the evening, the problem is that even on the nicest of days, it very often gets cold and if you want to enjoy socializing outside, outdoor heating is a must.
Choosing the right outdoor heater can be a difficult task, especially with so many heaters available. We've created this handy guide to help you choose the right heater and answer any questions you may have.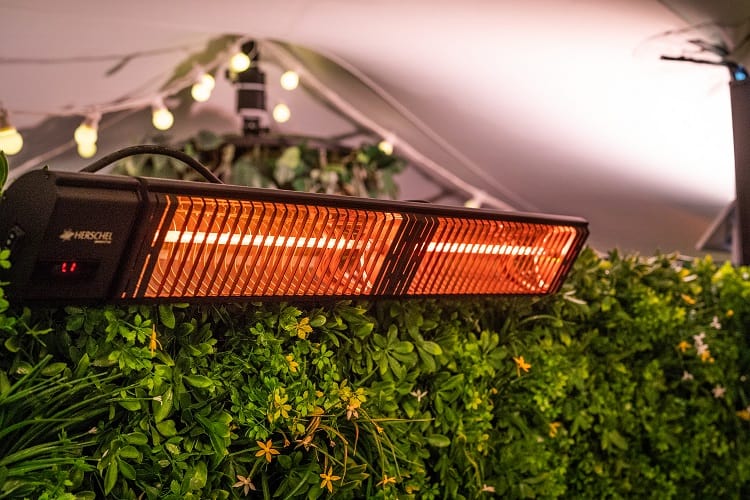 An outdoor or patio heater uses infrared (also known as radiant) heat to directly warm people within proximity of the heater.  These come as electric infrared / patio heaters, gas heaters, or firepits/chimineas.
Gas heaters are highly inefficient as they consume a high amount of gas for the relative heat output and are very bad for the environment due to the high CO2 levels. They are also very inconvenient with heavy gas canisters or complex installation.
Fire pits/chimineas are a bit better for the environment and can create a nice atmosphere. However, they are usually very smelly and of course, need constant attention, supplies of wood, etc, and are not practical for most urban areas or anything more than occasional use.
Herschel's Electric patio heaters are the most efficient form of outdoor heating. The heat output can be directed exactly where it is required, they are silent, maintenance-free, have long lifetimes, and are the most environmentally friendly form of outdoor heating, especially when powered by a renewable energy source. As the energy grid continues to decarbonize the environmental credentials will improve further.
How do electric patio heaters work?
Electric infrared heaters convert electricity into infrared heat via a heating element or lamp. This heat is transmitted by electromagnetic waves through the air until it reaches an object (they do not heat the air itself).
The objects (and that includes us humans) absorb the electromagnetic waves which have the effect of warming us. It is similar to the heat transfer from the sun, but due to the lower intensity, there are no harmful effects such as UV. Infrared is completely safe.
Infrared is a form of light and just like light, it travels in straight lines and reduces over distance. So like a light bulb, the closer you are to it, the more of the infrared heat is absorbed by you and the warmer you feel. The further away, the less of it reaches you and the colder you feel.
In terms of your comfort outdoors, you can compensate for feeling cold by having several heaters, hotter heaters, or being closer to the heater. These are the main things you can adjust.
How do I work out how many or what size I need?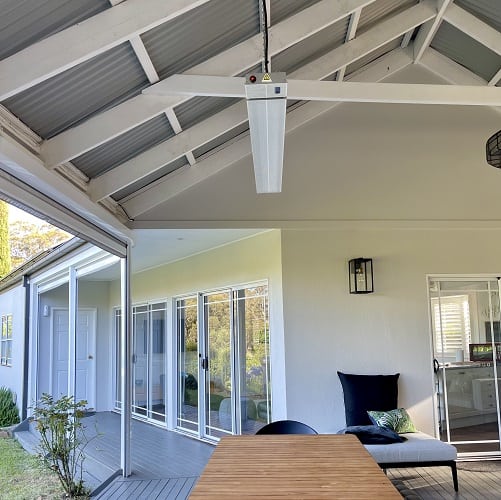 We give a heated area guide for each heater, but this is a guideline only and the area covered will depend on the ambient temperature, level of wind, and mounting height.
As a general rule, any cover (whether temporary or permanent), such as an awning will help to keep the area warmer and cozier, and the more shelter in terms of walls or wind blocks that exist, the better.  Even though you are still absorbing the heat from the heater, a cold wind will prevent you from properly feeling the benefit – just like the effect that a chilly wind has on a sunny day.
Installing more heaters in an area is preferable to installing too few because you only turn them on when you need them and you won't risk under-heating an area on colder days.
People will usually need to be within 6-10ft of the heater to feel the warmth from it, so it is important to consider the location of the heaters to ensure good coverage.
We have a range of mounting options to suit any scenario from wall to ceiling surface mounting and hanging – so a combination may well be the best solution for larger areas.
Herschel also has experts on hand to respond to your calls, emails, or online chat, so if you are in any doubt, please ask for help.
How much do they cost to run?
The amount of electricity consumed by a patio heater is measured by its wattage (power). So a 1000W (or 1kW) heater will consume 1kW of electricity per hour that it is running.  The average price of 1 kWh of electricity in the US is currently about 14 cents. So, a 2000W (2kW) heater will cost 2 x 14c = 28c per hour to run. For heaters with different heat settings, the usage could be lower than the stated wattage (for example our 3000W Manhattan has a half-power setting, so on half power would only consume 1.5kWh of electricity on this setting).
However, whilst the energy consumption of all heaters will be the same as their power (wattage) rating, there are big differences in the efficiency and the effectiveness of different makes of heaters. Each kW of electricity consumed needs to be properly and efficiently turned into effective infrared or some of it will be wasted heating the air, and heating air outdoors is extremely wasteful as it simply rises and disappears into the atmosphere.
Are they bad for the environment?
When powered by clean, renewable electricity we believe that our outdoor heaters provide a sustainable way to allow people to enjoy time outdoors with zero harmful fumes, air pollution, or CO2 emissions.
The majority of the components in our heaters are metal and a very high percentage (c.95%) can be recycled at end of life. They are designed to last and there are no harmful chemicals used in the production process, or in the heaters.
Herschel's outdoor heater range
What is the difference between zero light, low glare, quartz halogen, shortwave, middlewave, and longwave patio heaters?
The level of emitted light, heat, and their electromagnetic "wavelength" tends to dictate the different classifications of outdoor heater types you will come across. They do all make sense, but they can be confusing.
Most people's experience of electric outdoor heaters will be from those outside pubs, restaurants, and cafes, The vast majority of these are older style "quartz halogen" type of heaters which are "shortwave". These heaters can give off a high level of light which "glares" making them uncomfortable to be near for any length of time. Thankfully outdoor heating technology has moved a long way and we only supply much more comfortable low glare or zero light types of heater.
Herschel's infrared patio heaters fall into the following ranges:
Zero light – Designer Range
Our zero light infrared heaters produce no visible light and give off a gentle, warm but not "hot" level of heat. Because the level of heat is less intense, when used outdoors they are only effective in covered, sheltered areas.
They are very popular in rooms that are open to the outdoors and high-end bars and restaurants where discreet heating is required without any light. They are very much "designer" heaters and form our Zero light (designer) range.
Choose either Summit White, Summit Black, or Aspect XL.
Warm glow – Performance Range
Herschel's Performance Range of heaters all have our latest generation woven carbon fiber heating lamps. This produces a very comfortable level of heat with a deep orange warm glow. They create a very cozy atmosphere and the lamps are ultra-long life (up to 10,000 hours).
The Herschel Manhattan 3kW from our Performance Range is our most powerful outdoor heater yet. The Manhattan can be both wall and ceiling-mounted offering fantastic versatility for all locations. The Manhattan is supplied with a handy remote control, with 50% (1.5kW) and 100% (3kW) power levels, and 24-hour timer settings. Most people really enjoy the warmth and ambiance from these heaters.
Choose the range of heater that best matches your requirements, the location and how you expect to be using them.
How easy are they to install?
With the exception of the Aspect XL2 120V, all of our outdoor heaters are run from on a 240V mains supply. Any qualified electrician can install them and run the necessary wiring for outdoor installation, using appropriate IP-rated electrical fixings.
How do I control them?
Many of our heaters come with remote control options and have on/off switches on the heater. Alternative control options are available.
Why are Herschel heaters more expensive than some others?
A good outdoor heater should:
Provide a comfortable level of heat without glare
Be efficient and effective when running with a high proportion of Infrared output
Be safe to use
Enhance the look of your property
Last for many years.
Heaters at the cheaper end of the market are made from low-grade materials and components, cheaply made heating lamps, and are often far less efficient at projecting out usable infrared, with heat wasted by convection from the unit.  A patio heater has to withstand all sorts of weather conditions and if components rust the heater will not last long.
All Herschel heaters are built with longevity in mind. None of the components including fixings can rust and they have high IP (water and dust ingress) ratings. Where appropriate we use mirror reflectors or special infrared emitting coatings to ensure that the heater is efficient.  They are tested at least to UK and international safety standards by independent testing labs and are all commercial grade heaters. Our lamps are long life and made from premium materials. All paintwork and coatings are fully tested against fading, discoloring, or flaking.
We believe that Herschel infrared patio heaters represent the best value and best performing outdoor heaters on the market.