Quick Delivery
Expert Advice
Energy Efficient
Infrared heaters for Churches & Village Halls
Proven heating solutions for churches & village halls, wedding venues and barns.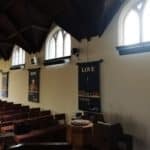 Churches and public halls have unique heating requirements. Older buildings in particular are expensive to heat and legacy heating systems are often costly to maintain.
Our space heating range offers solutions which are relatively inexpensive to install, economical to run, have a long lifetime and are maintenance free.
Our infrared heaters directly heat people and the thermal mass of the building, meaning no energy is wasted heating large volumes of air. Instead, the infrared heat radiates over the required area and is absorbed by people and objects within the zone. By heating in this way it is possible to provide the heat when needed and where it is needed. For example, it is possible to heat the congregation throughout the service but not waste energy heating the church when is it not in use. The same principle applies to village halls which can be heated only when in use with rapid warm up times. Infrared is also good for preserving buildings because it warms the building itself helping to reduce damp levels.
MANHATTAN 3000 Watts

View Range
Heat only when it is needed
Unlike older quartz and halogen infrared heaters, our range are zero light or warm glow which provide a very gentle feeling of warmth without any unsightly glare. In addition they all have long life heating elements which saves money on maintenance replacement of heaters. Heaters can be wall mounted, ceiling mounted or suspended. Our heaters are high quality, built to last and not only perform well but also look great. Our Pulsar is extremely popular with Churches and village halls or choose from the rest of the range for your requirements.
Our control options range from simple push button timers and remote controls to whole building solutions. Contact us for a specification and quote.
Inspiring Ideas
Salisbury Church Install Herschel
Testimonials
"The best thing for our church. The old infrared heaters we had were terrible, no more glaring light, no buzzing noise and no more complaining from our elderly congregation of being cold. Really quick heat up times and have saved us a fortune against our old running costs as well as reducing the power we used by 40%. We are now looking at the rest of the areas in our church, after having trialled Herschel in the main rectory. Adam and his team at Herschel have done a brilliant job and should be very proud".
John Horton, Church Warden, Salisbury Park United Reformed Church,
"Absolutely fantastic! Looks great & I'm comfortable for the first time. The landlord is really impressed too."