How to heat a yoga studio
Why is infrared heat effective in yoga studios?

Infrared heaters offer the only practical solution to raise the temperature in yoga studios to the temperatures needed. Infrared then warms rooms and people rather than heating the air. Infrared is a gentle, natural form of heating, often used in incubators for babies. The (completely safe) infrared rays penetrate the skin, helping to assist circulation and warming you from the inside. It feels like having the sun on your face on a spring day. Check here for our health facts.
Browse Hot Yoga Heaters
SUMMIT Black 2600 Watts

View Range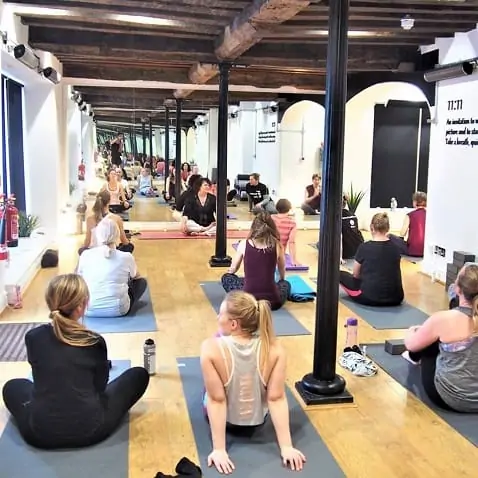 Professional Specification Service
Herschel has a team of in-house surveyors who perform desktop estimating services for commercial heating projects.
Contact us with your project details
Find Inspiration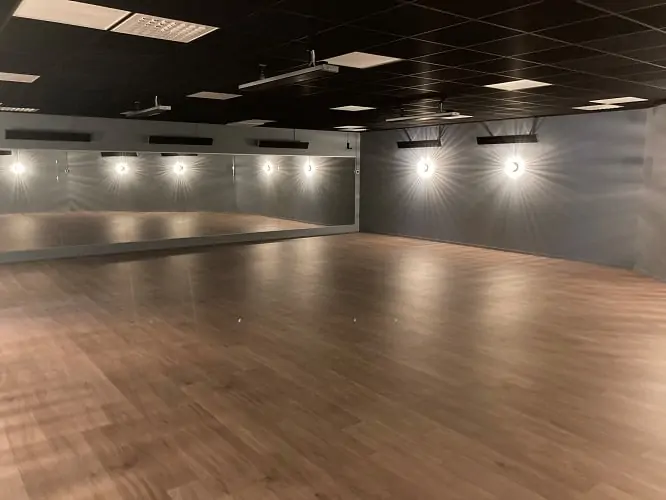 Hot Yoga in Sweden with Herschel
Find Inspiration
Hot Yoga in Sweden with Herschel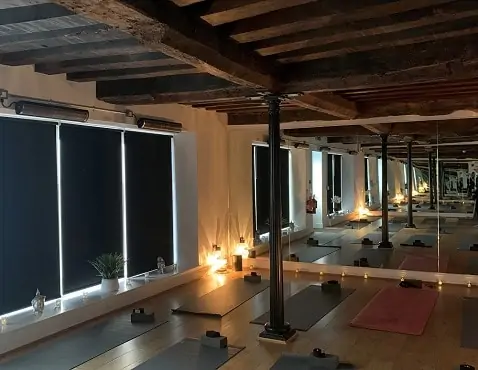 Effective heating for Hot Yoga
Find Inspiration
Effective heating for Hot Yoga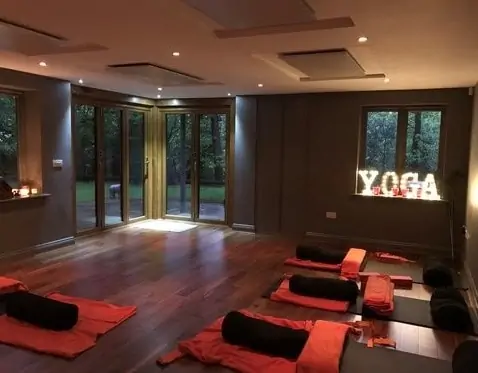 Warm Yoga Classes
Find Inspiration
Warm Yoga Classes
Why does infrared heating make a great choice for yoga studios?
With the right placement of infrared heaters, heat is evenly distributed to warm each corner of the studio. Because yoga temperatures range from the high 68°Fs up to 104°F for Bikram and hot yoga,  you'll need a heating system capable of delivering those sorts of temperatures (and a controller capable of managing those higher temperatures too). Infrared space heaters like the Herschel Summit are the most practical option with higher surface temperatures and superior output when compared to infrared panel and infrared cove heaters. They can deliver the sort of wattage levels needed with as few heaters as possible and because they heat materials (floors, furnishings) before heating the air, they require much less electricity input to produce the desired temperatures when compared with convection heaters. Infrared is a cost-effective option for heating a studio as the initial outlay on infrared heaters will pay back in their efficiency.
Our hot yoga infrared heaters are zero light far infrared heaters, perfect for hot yoga studios & spas, providing a gentle heat with no noise. They are maintenance-free, long life, energy-efficient and we have options for ceiling or wall mounting. Being designed from the ground up with hot yoga and bikram target temperatures in mind, the commercial grade Summit heaters are able to cope with the high heating demands much better than infrared cove heaters and panels.
For hot yoga heaters, our Summit heaters can easily achieve the 100°F+ temperatures required when properly specified.
How to heat a yoga studio requires specialist knowledge. Herschel has the experience to make accurate calculations and give you a solution that will last. To find out more about how to heat a hot yoga studio please contact us for specification and quote.
Case Study - Heating a Hot Yoga Studio
Lolli from Thaxted Yoga came to us looking for a heating solution for her Hot Yoga studio; the studio has been built inside an old converted barn situated in the middle of plots of farmland. The barn is very poorly insulated, meaning heat can very easily escape from the building. The studio also has an engineered floor that is prone to getting cold, especially in winter.
Due to the high temperatures needed in Hot Yoga studios (90°F – 104°F) combined with the poor insulation of this converted barn, we knew we needed a powerful solution that could combat the loss of heat in the winter months. Our Summit heaters work particularly well in this scenario. They're completely zero-light, meaning they can be discreet and not draw attention away from the room and keep yoga classes focused on instructors. Their high power ensures the room stays at the required temperature,  thermostatically controlled so the instructors are in constant control of the temperature of the room, as dictated by their hot yoga schedules. In this particular studio, we fitted three Summits to ensure the room had sufficient levels of heat to achieve the desired temperatures.
Lolli had this to say:
"Since having our Herschel Infrared heaters it has made a huge difference. We have them mounted on the wall and the room heats up very nicely and the way we have the heaters set up on brackets facing down, even the floor gets warm. We are very happy with them."
Customer Testimonials
"A warmth students really love".
Harbour Yoga installed Herschel InfraRed panels to provide heating for Warm yoga classes at the studio. The panels are discreet and unobtrusive. They function extremely well, creating a warmth that students really love. The service from Herschel has been excellent, any issues have been dealt with extremely quickly and professionally. To summarise, we have found the panels to be an excellent product for our needs, from a great company to work with.
"Made the decision easy"
"The environmental credentials of infrared made the decision easy, you heat people and objects, instead of the space".
Andy Brown – Owner, Woodland Spa
"A huge step forward"
"After one full season of use, the changing rooms and, particularly, the heating can be regarded as a huge step forward"
John Atkins, Chairman, Wallingford Sports Trust