Background
Ms Hunter contacted Herschel having undertaken research into electric alternatives to gas central heating, for her mid-terrace home, and a more eco friendly solution. The property, circa 30 years old, has a bedroom on a mezzanine floor, with a ground floor to ceiling peak of 4.9m. The existing heating within the property was a plug-in electric fireplace and the gas meter had been taken out.
Solution
"After days/weeks of research and since I'm a bit of an 'eco friendly nut' – I decided on elec heating system and then on infrared panels as I don't have enough space for anything on my walls. Gas or storage heaters would have been pointless as there is a huge volume of air as it's all open plan and heat rises".
The property has Herschel infrared panel heaters and thermostat controls installed in the kitchen, bedroom and bathroom.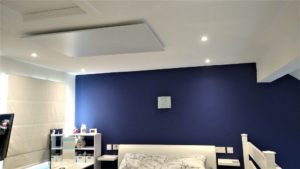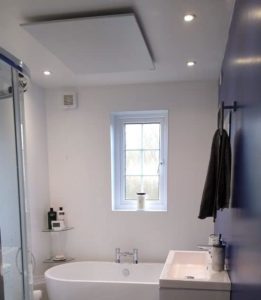 A Herschel Aspect XL heater has been installed within the open-plan living area, providing cosy warmth, within the high-ceilinged living space. Cloe has combined her low energy infrared heating with a renewable energy electricity supplier to deliver a sustainable, eco heating solution for her home. Electric heating solutions, in particular infrared heaters, provide fantastic sustainable alternatives to gas central heating as they can be powered by clean electricity suppliers and onsite renewable sources.
Testimonial
"Now I'm currently sitting in my new home with them all connected. The heat they give off is direct, like the sun. Heats walls, surfaces, objects – which means they do not make the air stuffy like gas radiators or storage heaters which would give me a headache and make me feel like I couldn't breathe. Also considering most storage heater wattage, these are meant to be better on the bills. I'm very pleased with them and the overall experience with this company. I hope they last a long time so this will be my first and last purchase. Unless in 20+ years I move, then I will be back and hopefully by then this internet page has thousands of 5* reviews. So now with my panels and my renewable energy electricity supplier, I am now doing my bit towards climate change – at least in my mind… Thanks everyone".