Infrared Sunroom & Garden Room Heaters
How to heat a sunroom or garden room
Heating a sunroom or garden room with Herschel infrared is simple and cost effective. We have a number of infrared heaters that will allow you to enjoy your sunroom all year round.
Where heating is only required for occasional use we recommend our Summit or our Aspect XL heaters which have a fast warm up time. If your sunroom is in constant use and has good energy efficient glazing and building specifications, our slimline white panels are ideal.
Herschel heaters are also the best way to heat a garden room, providing a gentle warmth without becoming too hot, great for using your "man cave" all year round or providing background heat to prevent deterioration of contents. The ability to ceiling mount them frees up valuable wall space.
Infrared heaters are unobtrusive and will provide a permanent heating solution which will heat the furniture, walls and floor or the room without wasting energy heating the air. Other benefits of Infrared include a reduction in condensation and mould.
Browse Sunroom Heaters
Inspire Comfort – White Frameless Infrared Panel Heater

View Range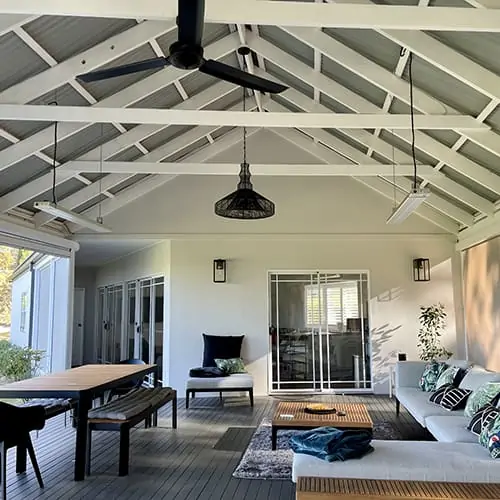 Comfortable sunrooms and garden rooms for the colder months
For sunrooms and garden rooms that are used occasionally, our Summit or Aspect XL heaters are very cost effective as you will only be heating the room when you want to use it. Summit is a powerful zero light ceiling or wall mounted heater available with a remote control, timer and variable power settings or also comes in a non-remote version for use with a thermostat. The white version looks especially attractive in sunrooms and rooms which open to the outdoors.  Aspect XL is a more compact heater designed for wall mounting only and will need a thermostat, such as our Herschel MD2.
For cold conservatories and garden rooms our range of warm glow infrared heaters offer fast warm up times.  Hawaii Wave and Malibu are ideal freestanding heaters you can position where you want.
Find Inspiration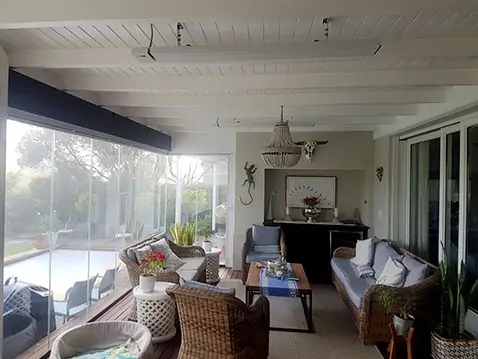 Garden Room South Africa
Find Inspiration
Garden Room South Africa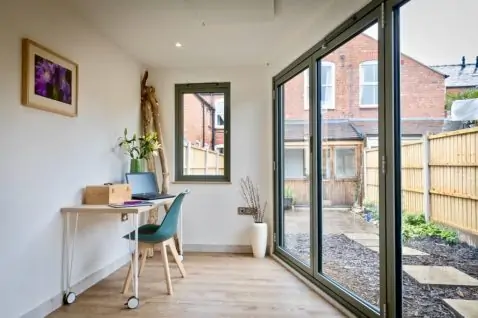 Best way to heat a sunroom or garden room
Find Inspiration
Best way to heat a sunroom or garden room
Customer Testimonials
"Comfortable for the first time"
"Absolutely fantastic! Looks great & I'm comfortable for the first time. The landlord is really impressed too."
"Really comfortable heat"
"Herschel's heated mirrors are perfect for bathrooms and shower rooms. Our meeting areas use heated blackboards which are great for our designers to sketch and record ideas on. The designer Pulsar makes a bold statement as customers enter the reception and compliments the interior design perfectly. Summit units are suspended above design workstations to heat where and when required. Ceiling mounted heater panels free up wall space and provide really comfortable heat". Alex Pankoff, Nuhaus
"The heaters have made it comfortable in the evening for guests to use this area"
I have emailed you some pics of the heating bars in the outdoor area . This is my Airbnb. Because it's on a hill and subject to cold the heaters have made it comfortable in the evening for guests to use this area. They love it.. Thank you.
"A great addition to our outdoor seating area"
We've been thrilled with the support from a whole host of local companies in helping us complete our project – the newly installed Herschel heaters are a great addition to our outdoor seating area helping visitors to enjoy the space in comfort.